Overview
Deer Creek Falls is a spectacular waterfall at the mouth of Deer Creek where it flows into the Colorado River. This is a remote spot, but because it can be accessed both by backpacking or by rafting, it does get significant visitation for a backcountry attraction.
Deer Creek flows down from springs and through side canyons on the north side of the Colorado River and the Grand Canyon. It is a stunning creek that flows through spectacular canyons as it winds its way toward the Colorado. And it ends its journey with a bang as it plunges 180 feet down Deer Creek Falls.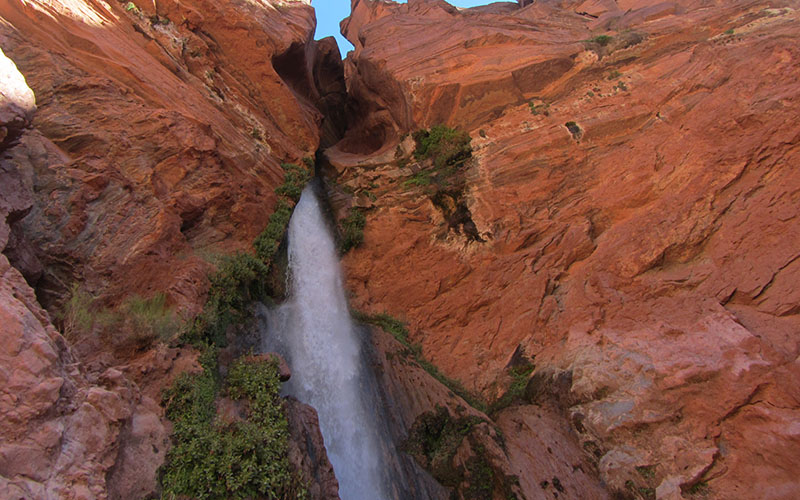 Getting There via Backpacking
Deer Creek Falls can be accessed via backpacking or rafting. To get there via backpacking, you first need to obtain a backcountry camping permit from Grand Canyon National Park, which you can read more about on the NPS website. It's recommended that you apply for the following itinerary:
Esplanade
Deer Creek Campsite
Deer Creek Campsite
Esplanade
The general itinerary to reach Deer Creek Falls is:
Day 1: Hike 4 miles on the Bill Hall Trail (North Rim) down to the Esplanade and camp for the night. 4 miles.
Day 2: Hike 6 miles down to the Deer Creek Campsite and camp there. 6 miles.
Day 3: Day hike to Deer Creek Falls and the Colorado River. 4 miles.
Day 4: Hike back to the Esplanade and camp. 6 miles.
Day 5: Hike back to the North Rim from the Esplanade. 4 miles.
Getting There via Rafting
Most rafting trips, commercial and private, stop at Deer Creek Falls which is at River Mile 136.9.
Guided Trip Options
The Wildland Trekking Company offers a 6 day backpacking loop called The Wonders of the Grand Canyon that features both Deer Creek Falls and Thunder River. Highly recommended trip.
More Information
Check out these pages for info on more waterfalls: