Overview
Ribbon Falls is along the famous and popular Rim to Rim hike, and is also accessible from Phantom Ranch which makes it the only waterfall in Grand Canyon National Park accessible without backpacking or rafting.
On the north side of the Colorado River, about 6 miles up Bright Angel Creek and hidden in a side canyon, is Ribbon Falls. On a hot day in the Canyon, in this section where shade is welcome, Ribbon Falls is a like a dream. The falls are about 100 feet high, and the mineral rich water has created a giant travertine spire below the falls. After taking a dip in the ice cold pool at the bottom, you can hike up around the falls and stand behind them. Although relatively accessible, Ribbon Falls still requires significant planning and effort to visit, but it's well worth it!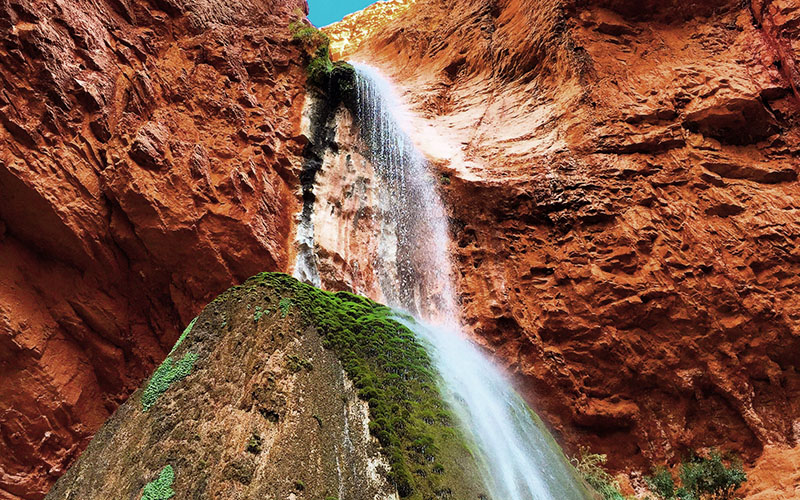 Getting There
Ribbon Falls requires either backpacking or hiking to Phantom Ranch. To backpack, you first need to obtain a backcountry camping permit from Grand Canyon National Park, which you can read more about on the NPS website. It's recommended that you apply for the following itinerary:
Bright Angel Campground
Bright Angel Campground
If you're staying at Phantom Ranch, you'll just need 2 nights of lodging at the Phantom Ranch dorms or cabins. You can read more on Xanterra's website, which is the company that manages Phantom Ranch.
The general itinerary to reach Ribbon Falls is:
Day 1: Hike down South Kaibab Trail to Bright Angel Campground or Phantom Ranch. 7 miles.
Day 2: Day hike up to Ribbon Falls on the North Kaibab Trail. 12 miles roundtrip.
Day 3: Hike back up the South Kaibab Trail to the South Rim. 7 miles.
Guided Trip Options
The Wildland Trekking Company offers multiple trips that can include Ribbon Falls – Rim to Rim, Winter Rim to Rim to Rim, Phantom Ranch, and the Mule-assisted Grand Canyon Classic.
More Information
Check out these pages for info on more waterfalls: