Why Join a Guided Havasu Falls Tour
There are many specific benefits to joining Havasu Falls tours. For one, you don't have to hassle with gear, meal planning, making reservations…etc., which allows you to focus 100% on enjoying your vacation. You can travel with nothing but your clothes, arrive ready to go, and let someone else deal with the complexities of planning the trip.
Secondly, some companies provide pack mule service for all the gear and food (The Wildland Trekking Company described below does provide mules), which allows you to hike comfortably with only a light daypack vs. having to backpack with 30-40 pounds of supplies.
Thirdly, if you go with a reputable company (we recommend The Wildland Trekking Company and explain why below), you can expect to be hiking with an expert guide who will provide a higher level of safety as well as educate and entertain you with fascinating stories and information about the Grand Canyon's early inhabitants, geology, wildlife and more.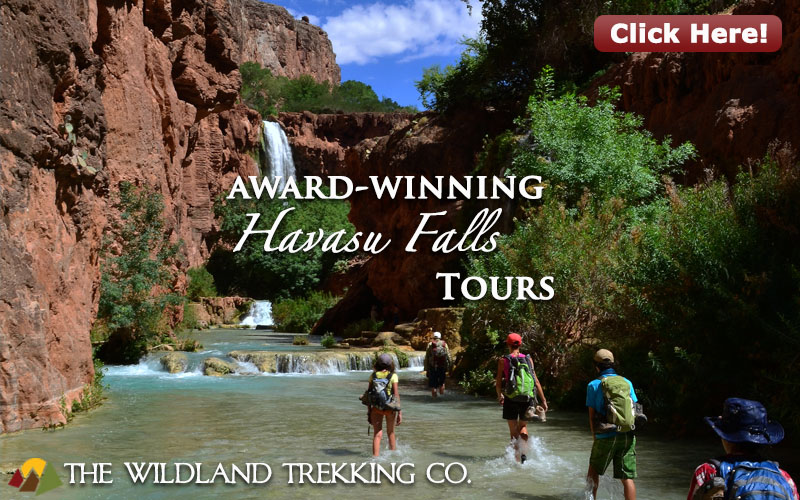 Havasu Falls Tours – Why the Wildland Trekking Company?
The Wildland Trekking Company is the premier provider of guided tours at Havasupai. They are a top-rated Grand Canyon tour company, the #1 rated Grand Canyon tour company on Trip Advisor, and have been lead tens of thousands of guests into Havasupai over the last decade.
Wildland Trekking's Havasu Falls tours have been seen in The New York Times, on msn.com, in the Washington Post, on the Discovery Channel and more!
» CHECK OUT HAVASU FALLS TOURS
More Information
Check out these pages for more information: